Amazfit GTS 2 Smart Watch with Fitness Tracking Android and iOS
Roll over image to zoom in
Click to open expanded view
17,990.00৳ (-18%)
| | |
| --- | --- |
| Brand | Amazfit |
| Color | Midnight Black |
| Special Feature | Sleep Monitor, Alexa, Activity Tracker, GPS, Music Player |
| Compatible Devices | Smartphone |
| Screen Size | 1.65 Inches |
| Operating System | Amazfit OS |
Xiaomi Amazfit GTS 2 Smart Watch
Beyond Comprehension
Amazfit GTS 2 has an AMOLED display that can compete with the best screens in the world. A pixel density of 341 pixels per inch makes the screen bright, shiny and realistic, and its bright colors make it easy to read.
Slim and Sleek
The beautiful glossy three-dimensional curved glass, like a piece of crystal jade, creates a powerful and integrated visual experience, and the beautiful and dynamic curves of the aluminum alloy case bring you a comfortable and easy portable experience. The watch also has a diamond-like carbon coating (oDLC) for the scratch- and abrasion-resistant display, which significantly improves the quality and longevity of the glass.
Personalized Watch Faces
Choose from a variety of rendering page themes to always be stylish. Each watch face has an always-on screen, so you can see your desired interface anytime, anywhere.
Comprehensive Health Protection
Amazfit GTS 2 is equipped with the latest BioTracker 2 PPG optical sensor developed by Huami technology. With a powerful sensor motor, he really understands comprehensive health protection.
All-day Heart Rate Monitoring
The Amazfit GTS 2 has an accurate 24-hour heart rate monitoring, covers heart rate ranges and warns you if your resting heart rate increases abnormally at rest.
PAI Health Assessment System
The PAI value is calculated by processing data on heart rate, exercise time and other complex health information with an algorithm. This value provides a personal health rating for each user based on their own health data and offers a unique experience for everyone.
Monitor Your Stress Levels
Stress is a leading cause of many health problems. GTS 2 allows you to monitor your personal stress level – calm, normal, moderate or high – at any time of the day when you are stressed so you know when to rest and reduce.
Sleep Quality Monitoring for Optimal Performance
Comfortable sleep is a top priority in the modern world. For example, the Amazfit GTS 2 supports in-depth sleep monitoring, which can determine the sleep stage more precisely (light sleep, deep sleep, REM courses), monitor the sleep state during sleep and, based on the nightly sleep, analyze quality suggestions for recovery and can also detect a snooze function of more than 20 minutes between 11 a.m. and 6 p.m. for more complete sleep information.
Your Playlist on Your Time
Amazfit GTS 2 supports mobile music playback via the watch, and with 3GB of local music storage you can transfer 300-600 of your favorite songs to your watch via your mobile phone. With the Amazfit PowerBuds wireless headphones or directly through the watch's speaker, you can instantly listen to your detailed playlist – so put your phone away, practice and listen to music anytime, anywhere.
Smart Recognition of Sport Modes
Activate one of the 90 training modes that you need and at the end of the training the watch provides a consistent analysis report, which can also be viewed in the mobile app to continuously improve your training plan. And intelligent sport mode detection eliminates the need to manually select sport modes, so the watch is always ready to use.
Escorts You Even Under Water
With its professional waterproof protection up to 50 meters, the Amazfit GTS 2 is comparable to traditional first-class watches and can be used carefree in everyday use or while swimming.
No Pause in Your Progress
Thinner, lighter and longer battery life. Equipped with a large 246 mAh battery that lasts 7 days with normal use, the new Amazfit GTS 2 is always ready to accompany you on your travels and to track your progress. Enjoy a full week of activity without worrying about taking your charger with you wherever you go.
Intelligence on the Left, Convenience on the Right
Swipe right to access the shortcut map feature which intelligently displays notifications, event information, weather, music and background apps. Also swipe left to bring up the quick access app. A customizable secondary page application for easy access to the functions you use. Make your everyday life easier by quickly viewing important information.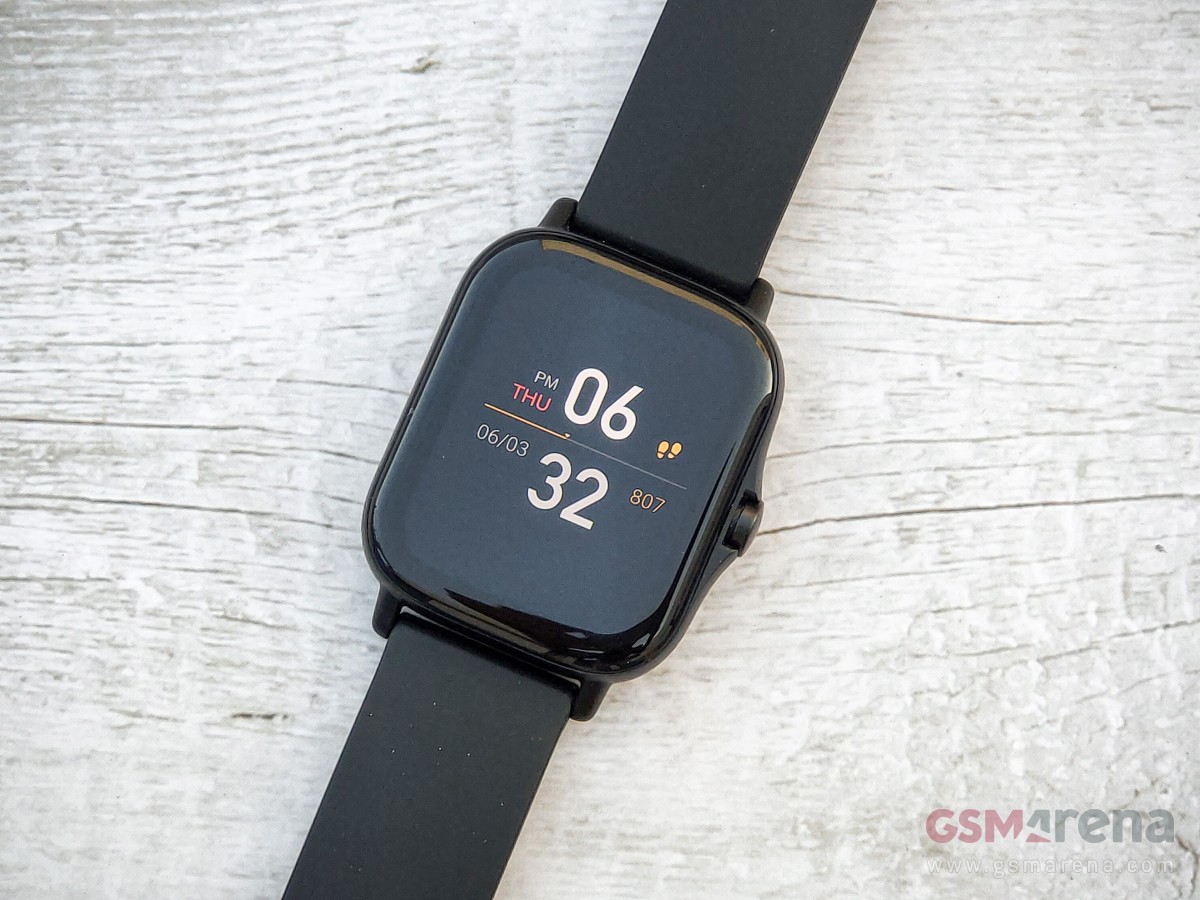 Customize Alert Duration and Intensity
With improved touch vibrations, the GTS 2 provides clearer and faster feedback when receiving phone calls and notifications. Thanks to the linear tactile stimulus, the vibrations can be set to different intensities and periods to create a great feeling. The Amazfit GTS 2's screen can be rotated 180 degrees, which is suitable for right and left-handed users, and can also be locked with a password to prevent others from accessing it while you are not using your wrist. The wear detection function can be automatically blocked when the watch is removed.
Optimized Health Data Management
Amazfit GTS 2 connects to the recently updated Zepp app, which performs a comprehensive analysis of multiple data sources to manage body data around the clock so that the user can change their physical condition at any time. Key functions include viewing and analyzing health and exercise data, and managing smart devices.
Additional information
| | |
| --- | --- |
| Brand | |
| Color | Black |
| Warranty | 1 Year |